Market On Close - Thursday 17 August
DISCLAIMER: This note is intended for US recipients only and, in particular, is not directed at, nor intended to be relied upon by any UK recipients. Any information or analysis in this note is not an offer to sell or the solicitation of an offer to buy any securities. Nothing in this note is intended to be investment advice and nor should it be relied upon to make investment decisions. Cestrian Capital Research, Inc., its employees, agents or affiliates, including the author of this note, or related persons, may have a position in any stocks, security, or financial instrument referenced in this note. Any opinions, analyses, or probabilities expressed in this note are those of the author as of the note's date of publication and are subject to change without notice. Companies referenced in this note or their employees or affiliates may be customers of Cestrian Capital Research, Inc. Cestrian Capital Research, Inc. values both its independence and transparency and does not believe that this presents a material potential conflict of interest or impacts the content of its research or publications.
Burry 2, Retail 0
More selling today.  The equity indices are approaching levels which may act as support for a move higher - the Dow may be there already and the Nasdaq and S&P500 may have a little way yet to fall.
After the bell there was a flash crash in Bitcoin and Ether, for what reason we know not (SpaceX dumping? Raining in Wichita? Who can say?) but this sort of thing does tend to happen in crypto every now and then. Both have recovered a little but expect some gyrations in crypto-related names tomorrow. If you read our notes in recent days we have been saying, Bitcoin is just moving sideways, unusual, that means likely a big move pending.  Technically we ought now to see a bounce to the upside in both Bitcoin and Ether - let's see.
The Good Stuff
NORMALLY for our paying members only we now walk through the shorter- and longer-term outlooks for the S&P500, the Nasdaq, the Dow and the Russell.  We highlight those levels we think can prove to be support.
We also include more detailed Cestrian staff personal account trading plans in our charts - these are disclosures rather than commandments, we include them to (1) clarify our own thinking and (2) to help explain what we think about the direction of markets. Paying Inner Circle members can reach out in Slack anytime to discuss.  You will, of course, make your own decisions as to how to use our charts in your own work.
BUT FOR TODAY only in this time of need we publish this note for all our members here, free and paying.  You're welcome.  Back to the usual hard-nosed capitalism tomorrow as we re-seal the paywall.
No change to thesis.  We don't expect a plunge to heavy-QE levels; we do expect equities to move up anyway.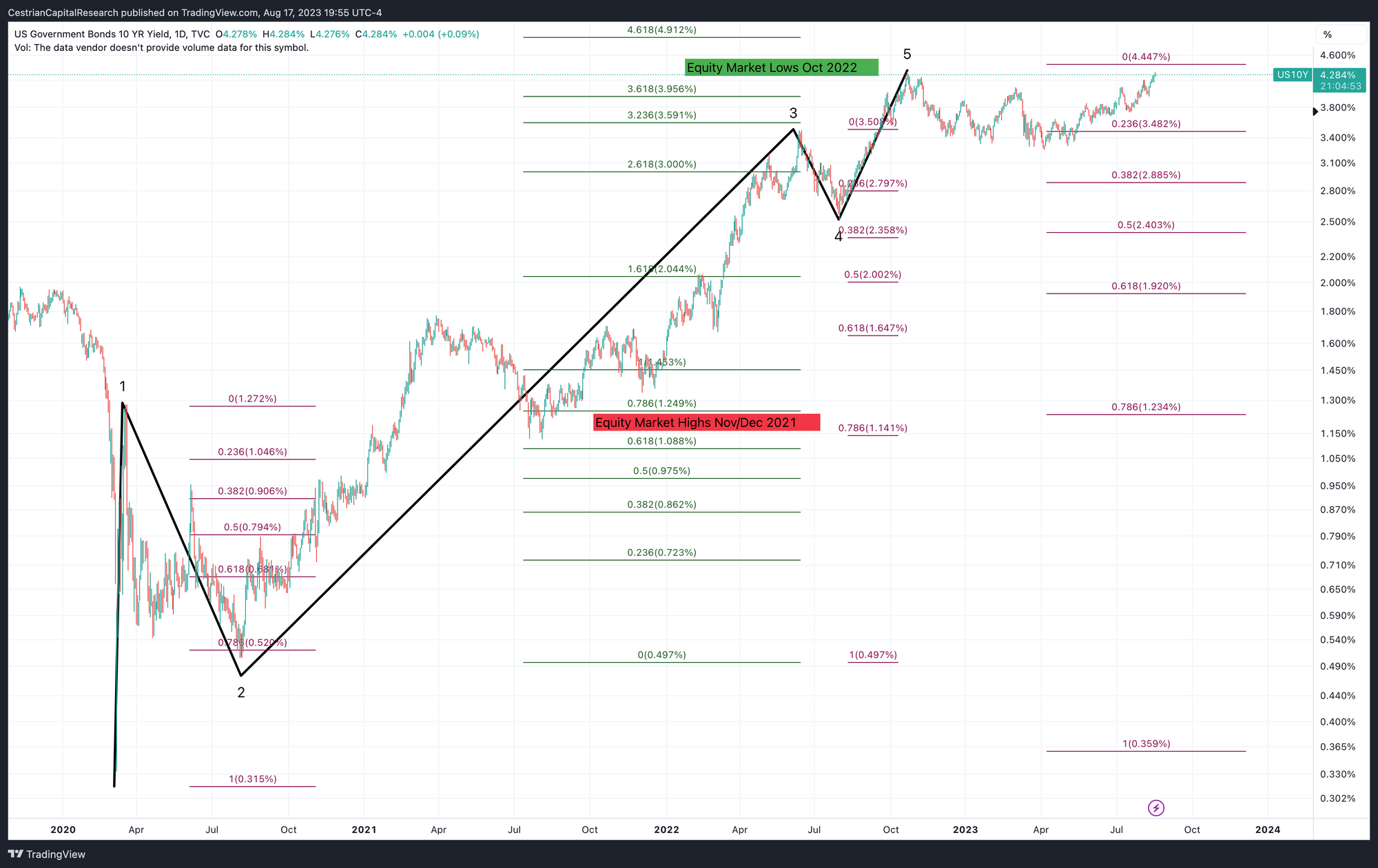 S&P500 / SPY / ES
No change to thesis - the current correction does not challenge the notion that all time highs are not that far away.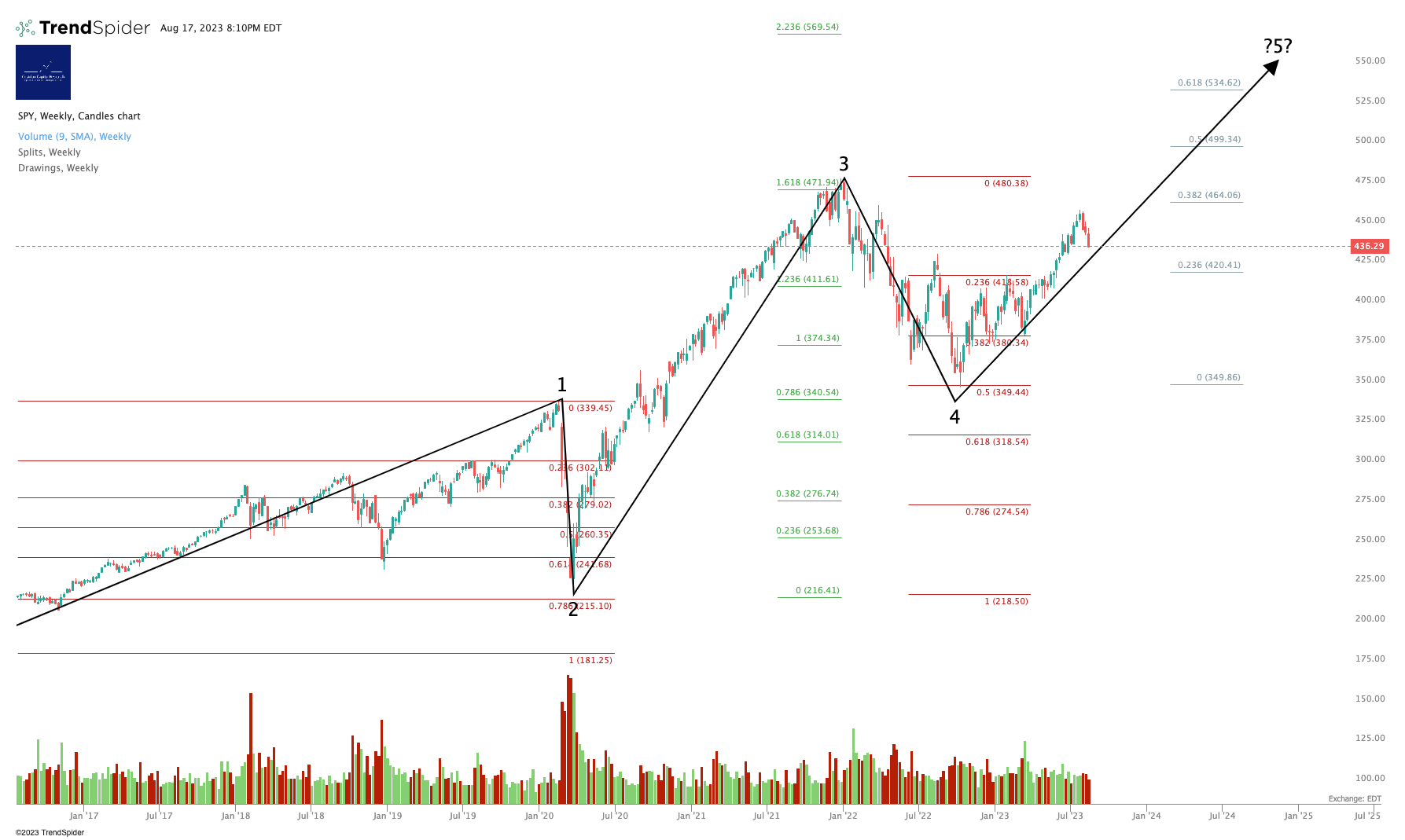 Personally I remain fully hedged in the S&P500 - if ES drops a little further - to that .382 retrace level you see on the chart - then I will be thinking about selling SPXU to bank gains.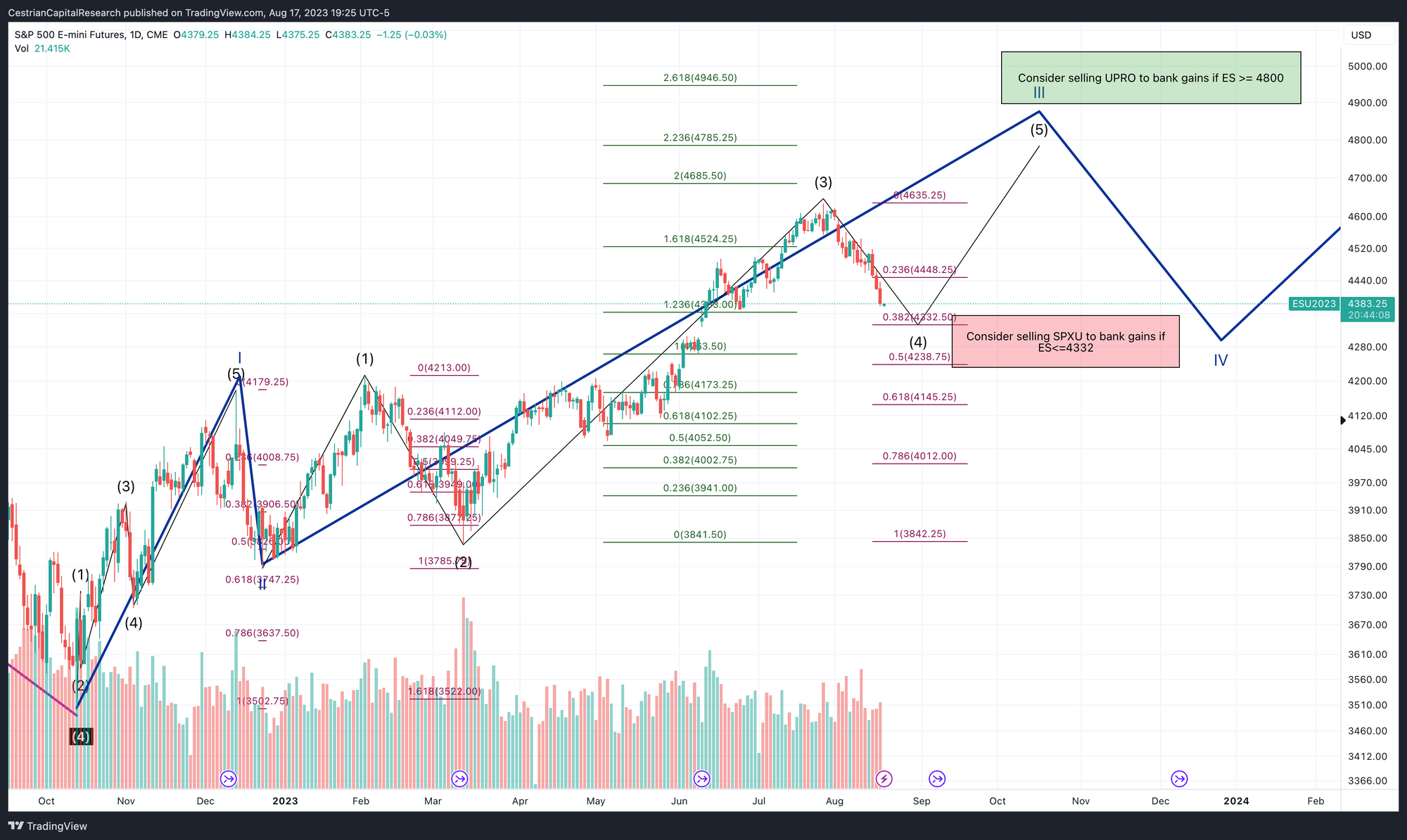 Nasdaq-100 / QQQ / NQ
No change to larger-degree outlook.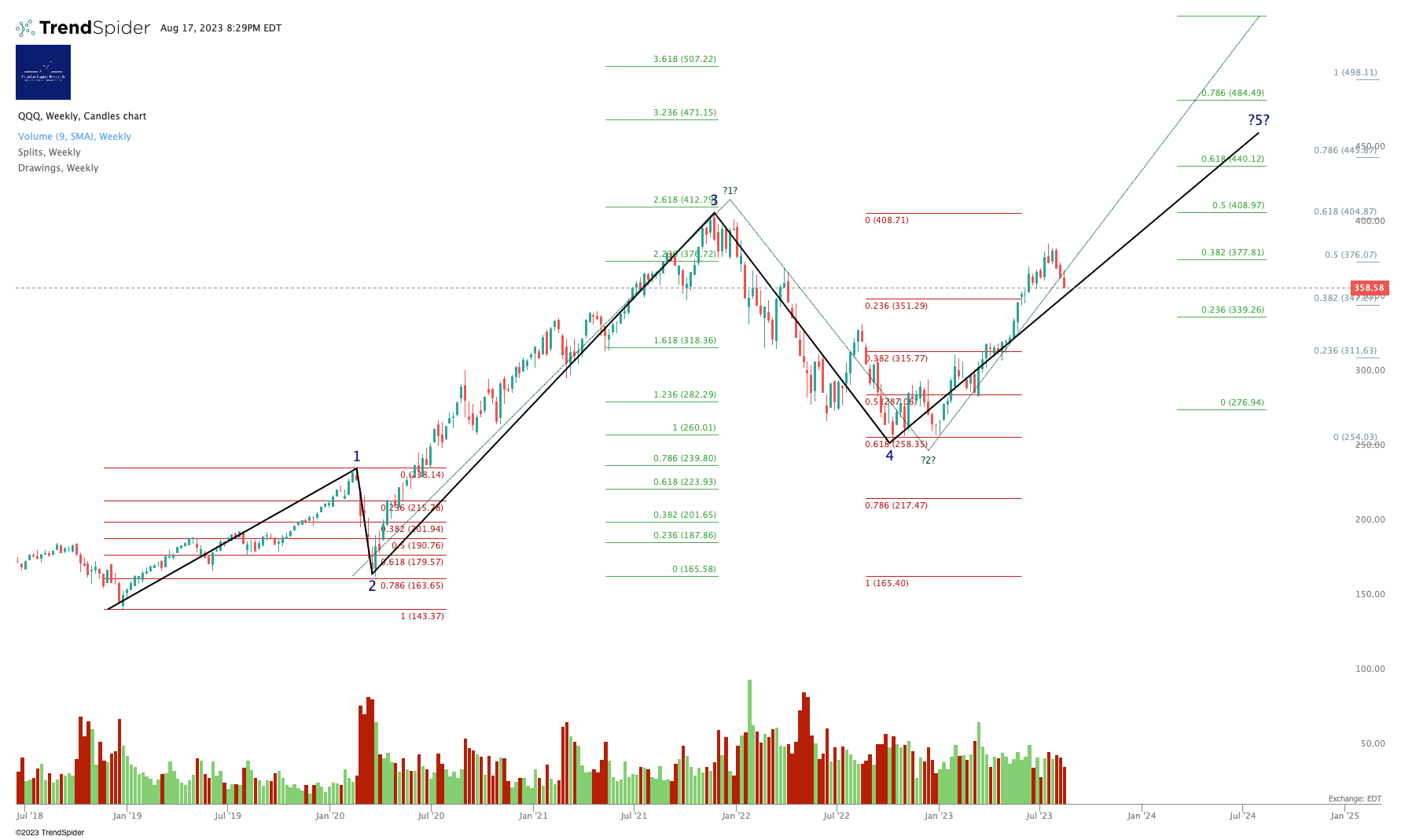 I have been selling SQQQ on this drop as you will know from alerts in Slack.  Once this drop is done and I have sold SQQQ down to zero or near to it, I shall reckon up how this one did.  When the Nasdaq was mooning and my SQQQ was bleeding, I overhedged long using TNA and UDOW ... now on the way down I have been adding to short gains by scalping TZA and SPXU .... all of which has been in order to keep holding a sizable TQQQ position which I plan to keep ahold of for some time yet. See trading plan ideas on the chart below.  As always if wrong ie. if I sell SQQQ and the Nasdaq keeps dropping, then I shall just buy and sell SQQQ whilst it drops in order to rack up scalper gains, whilst holding TQQQ long.
Dow Jones / DIA / YM
Again, no change to larger-degree thesis.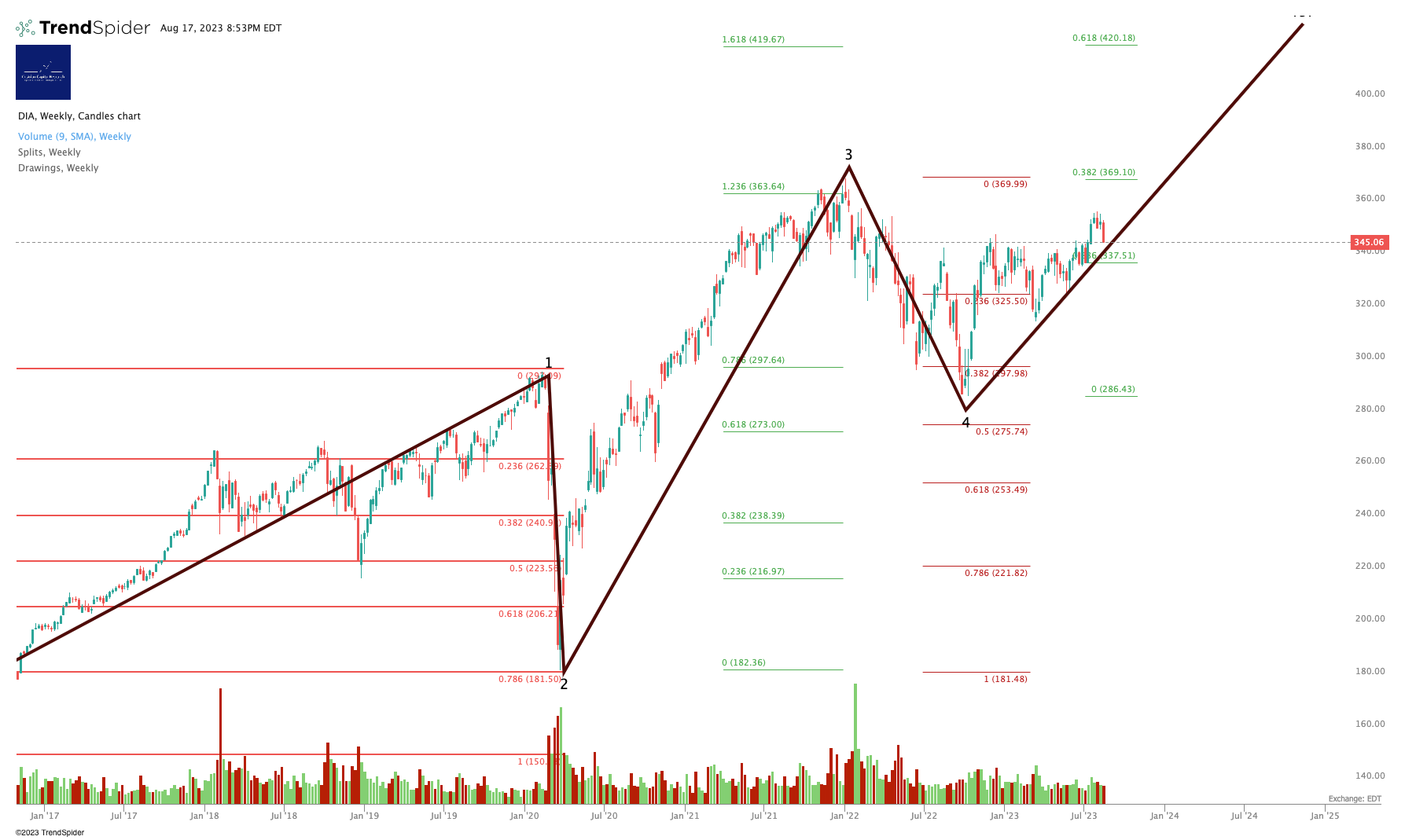 Per Slack, I trimmed some SDOW at cost today - this had been a very red position.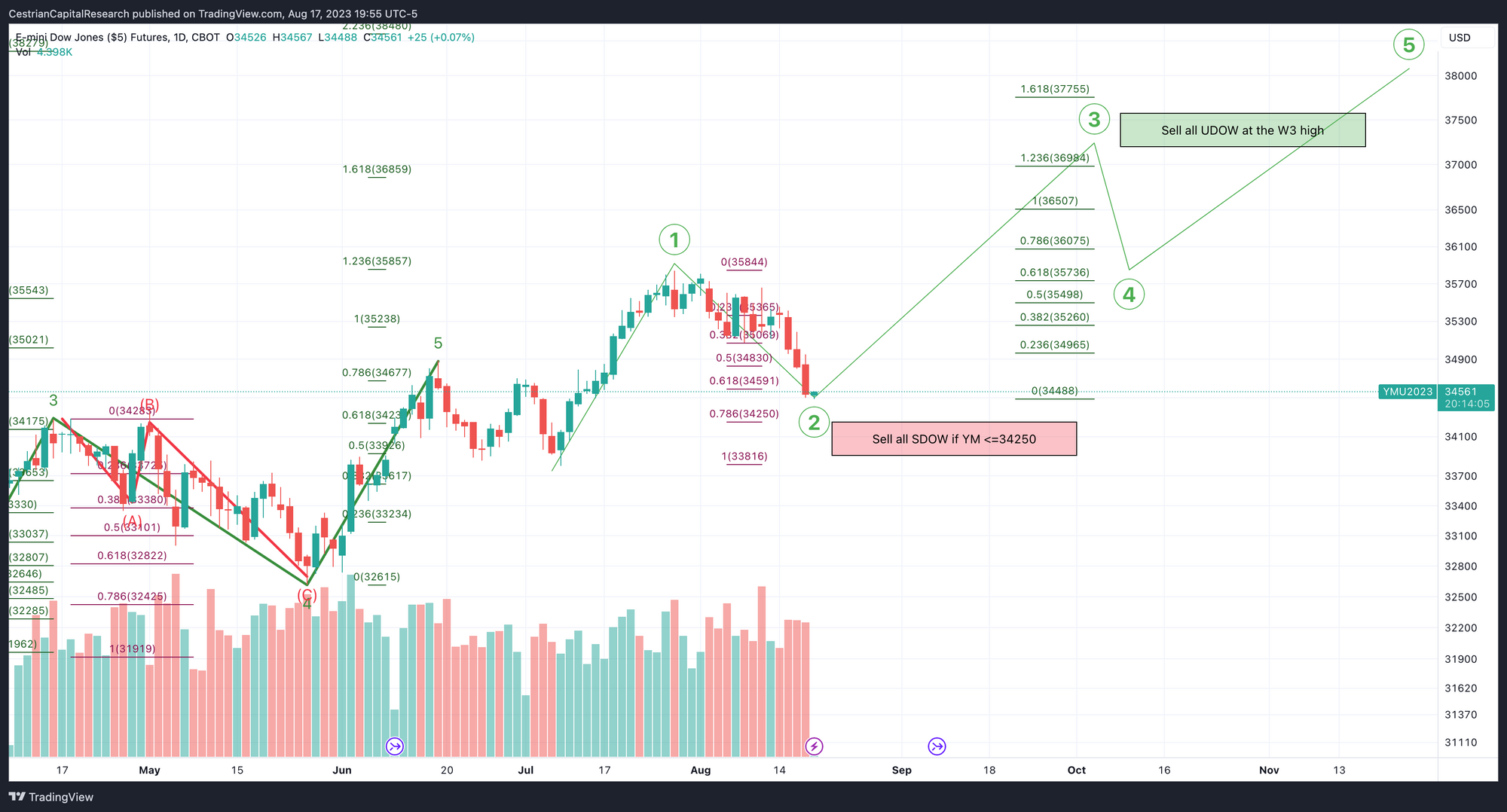 ‌‌
Russell 2000 / IWM / RTY
That Markup Zone is proving elusive.  When it comes - and I think it will come - the IWM can move up, and quickly.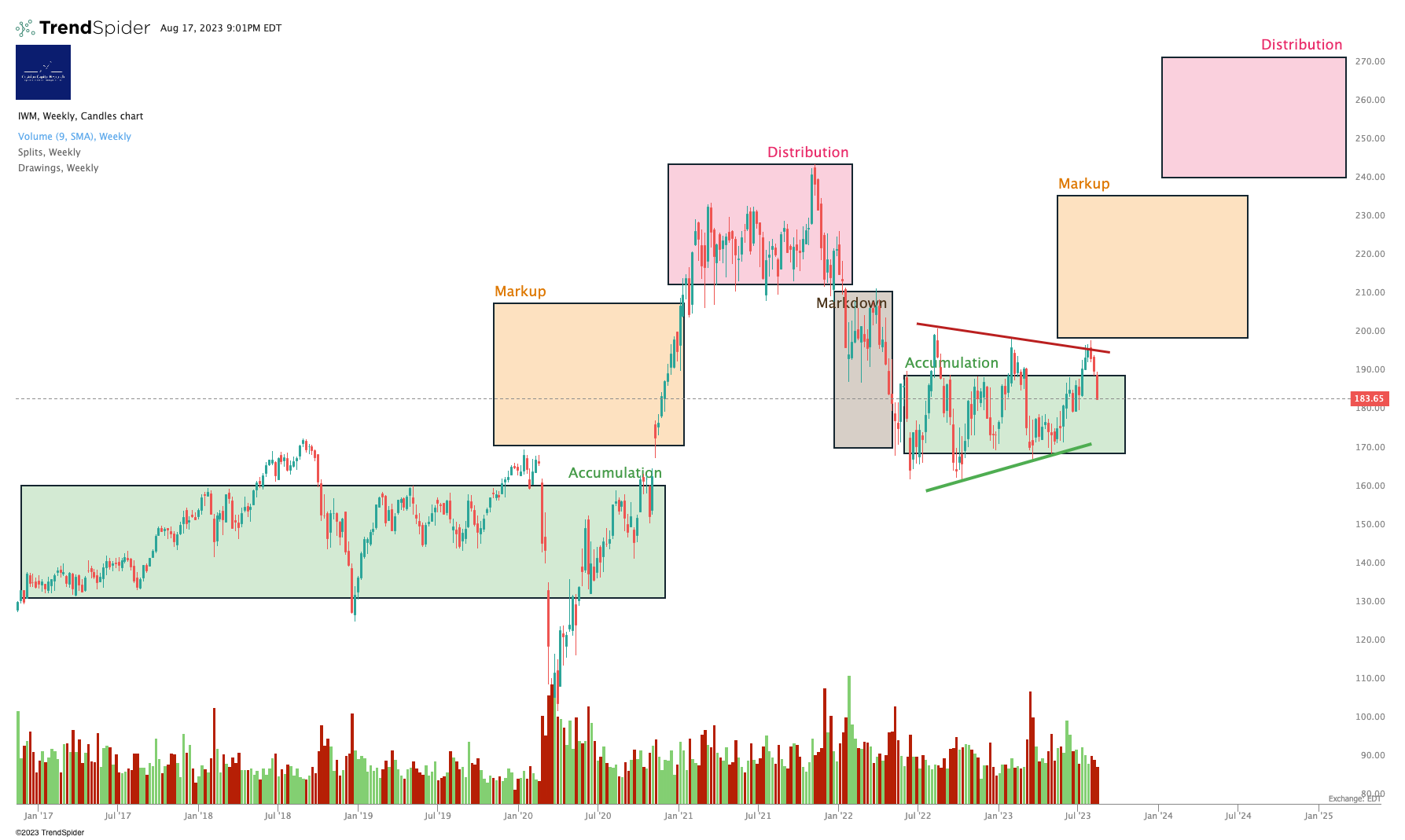 TZA has been the gift that keeps on giving this week.   My own personal trading plan for TZA / TNA below.  (May not survive a punch in the face from reality.  If I sell all TZA and the Russell keeps dropping, again, I plan to just keep scalping TZA on the way down whilst holding TNA).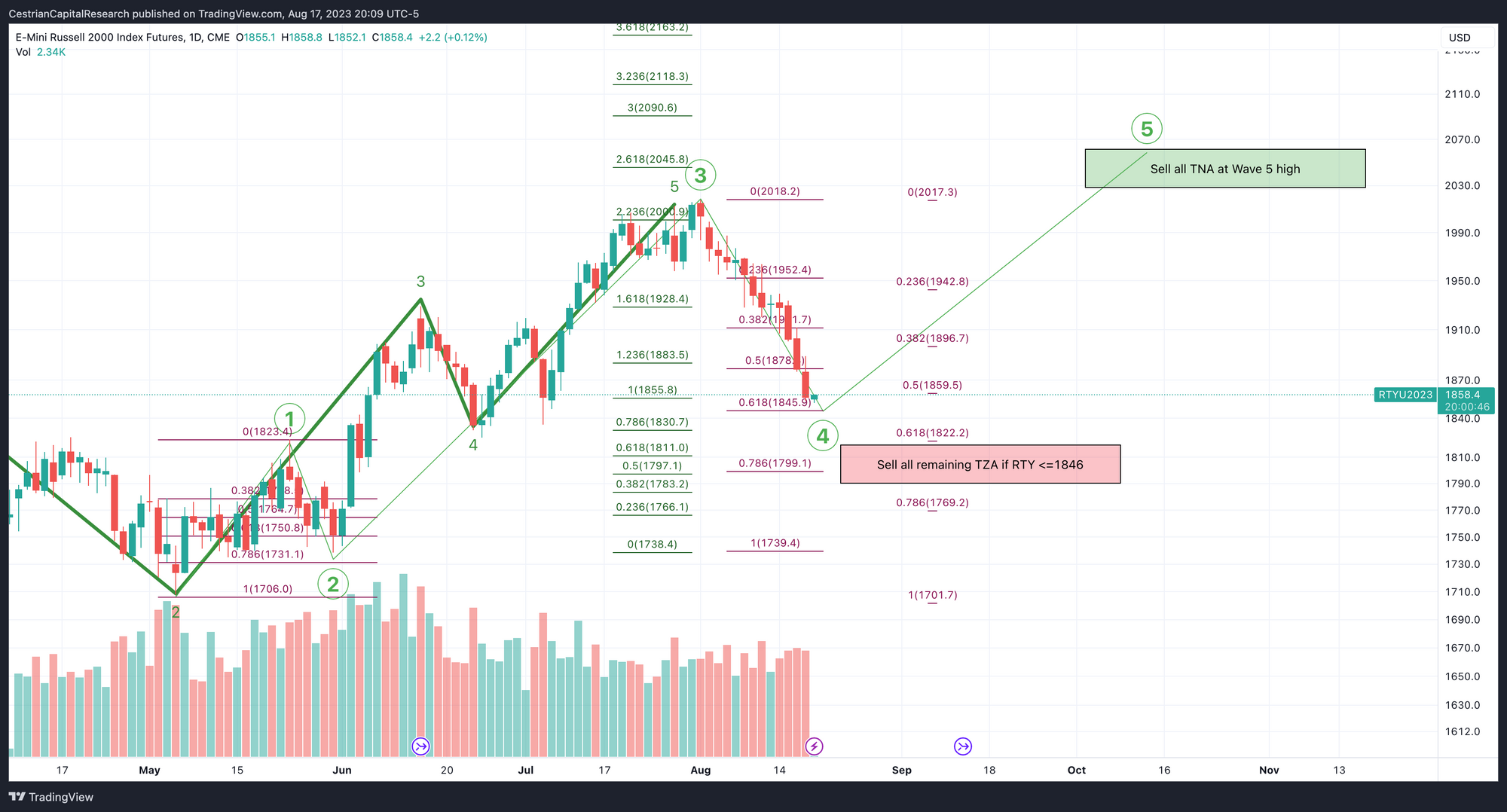 ‌‌
... aaand there's the big move we've flagged for a week or more.  A big fast selloff and already a rebound.  We continue to look higher in BTC medium term.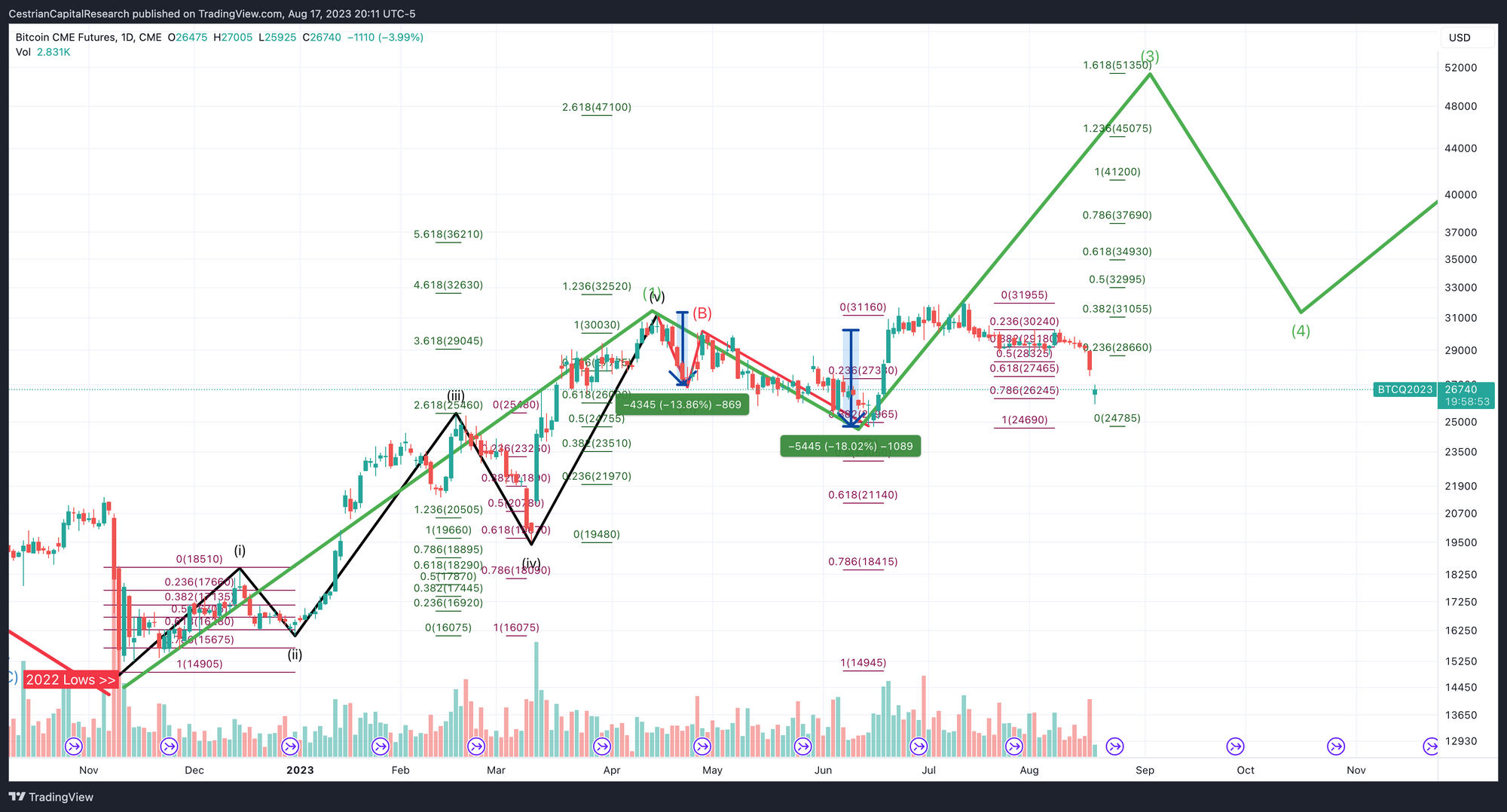 Moving in sympathy with BTC.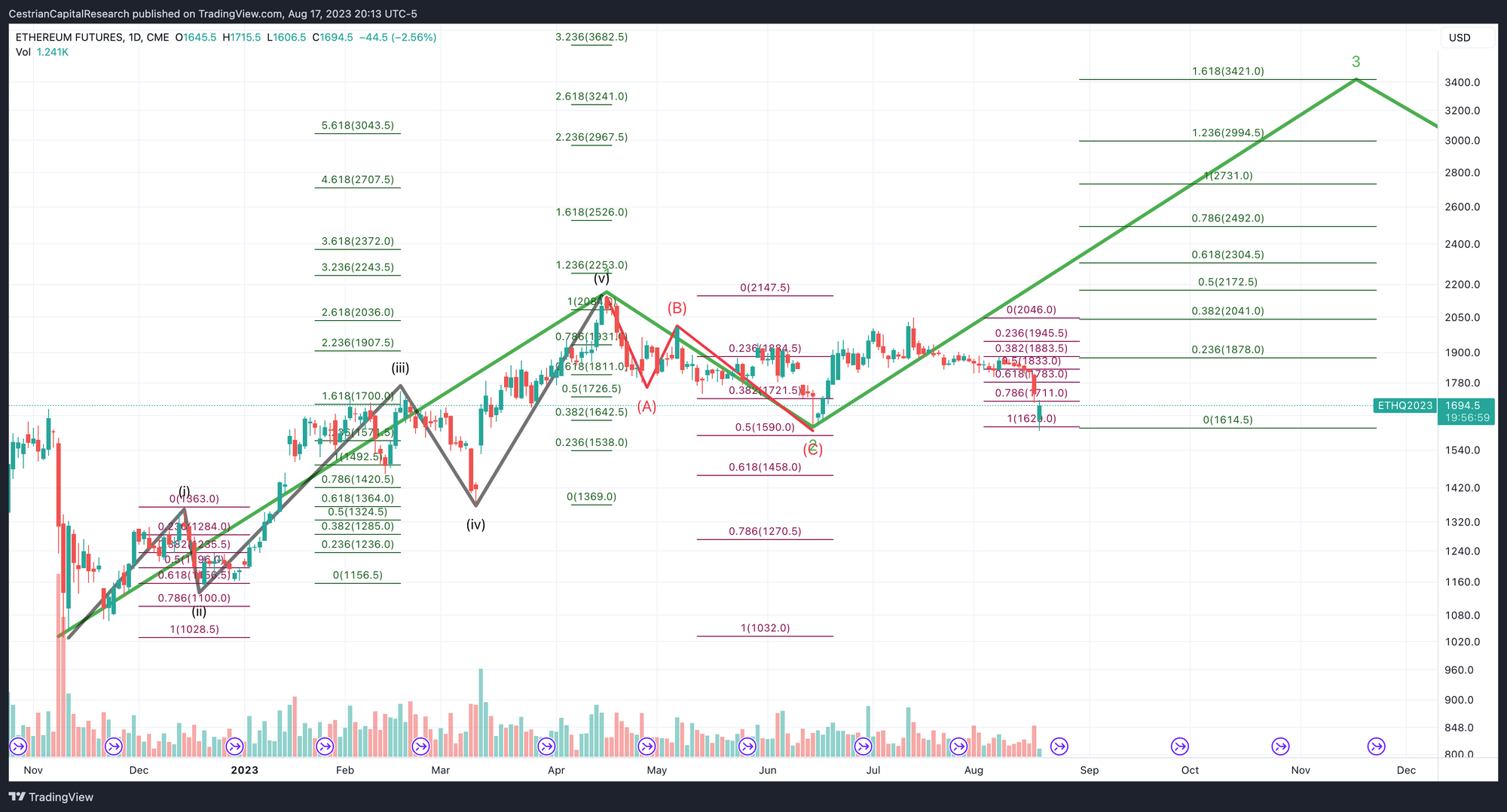 ‌
Alex King, Cestrian Capital Research, Inc - 17 August 2023
DISCLOSURE - Cestrian Capital Research, Inc staff personal accounts hold long positions in TQQQ, SQQQ (4.5:1 hedged long:short), BITO, (unhedged long Bitcoin), ETHE (unhedged long Ether), TNA, TZA (approx 4:1 hedged long:short), UDOW and SDOW (1.25:1 hedged long:short), and UPRO / SPXU (hedged 1:1 the S&P500).  NOTE the short positions here are intended to be smaller timeframe.  House view remains we are in a bull market.