All About Our "Inner Circle" Stock Baskets
We explain all below.
DISCLAIMER: This note is intended for US recipients only and, in particular, is not directed at, nor intended to be relied upon by any UK recipients. Any information or analysis in this note is not an offer to sell or the solicitation of an offer to buy any securities. Nothing in this note is intended to be investment advice and nor should it be relied upon to make investment decisions. Cestrian Capital Research, Inc., its employees, agents or affiliates, including the author of this note, or related persons, may have a position in any stocks, security, or financial instrument referenced in this note. Any opinions, analyses, or probabilities expressed in this note are those of the author as of the note's date of publication and are subject to change without notice. Companies referenced in this note or their employees or affiliates may be customers of Cestrian Capital Research, Inc. Cestrian Capital Research, Inc. values both its independence and transparency and does not believe that this presents a material potential conflict of interest or impacts the content of its research or publications.
May Go Up Or Down
When we started this service, Cestrian Inner Circle, back in January this year, we decided that a core principle of the service would be that it would be slow, thoughtful, analytical, professional.  
In other words, in our ongoing quest as a firm to be More Like Big Money And Less Like Chad (TM), this service would represent the pinnacle of those efforts.  There are plenty of stock services that offer the opportunity to trade in the manner of a Sunny Delight-addled hyperactive teenager, some of our own services among them in fact.  But Inner Circle, we decided, would be modeled on life in a Big Money asset manager.  Which is to say dull but consistently profitable if we did it right.
We thought that in service of our Big Money ambitions we would put together a series of stock baskets that could serve as long-term investment ideas.  How long term is long term?  Well, that has to be reviewed as time goes by, but the idea with each of them has been as follows:
Core Stocks Basket - 7 Feb 2023 Inception
We chose Microsoft, Nvidia, Taiwan Semiconductor, Dynatrace, and L3Harris.  Our logic was that early in 2023 there was a good chance that growth could outperform the market (hence Nvidia, Dynatrace and Taiwan Semi), that Microsoft would continue to drag the S&P up, and that L3Harris offered a growth stock dressed up as a value name.  To date, that portfolio has performed well.  As of today's close it's up +47% on a total return basis, vs. +30% for the Nasdaq-100 and +15% for the S&P500, both indices on a total return basis (ie. including dividends).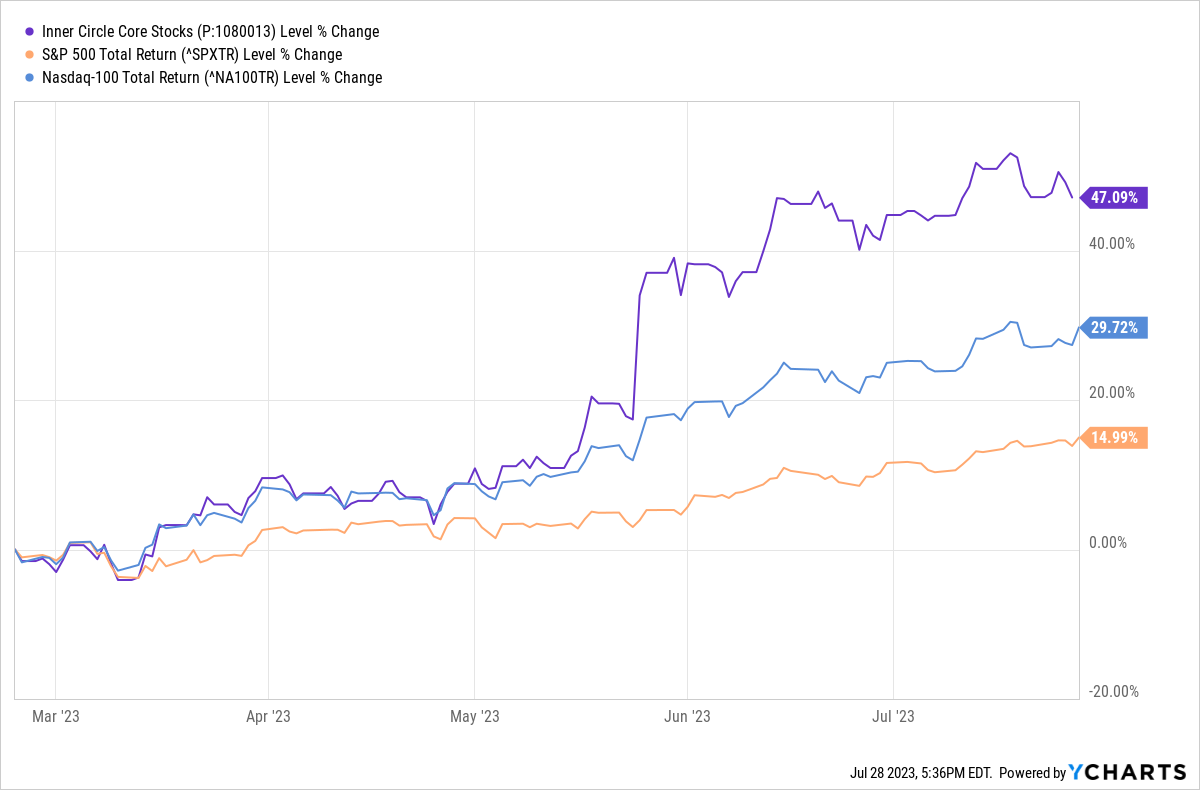 This set of names is looking good for the medium term, we would say.  In staff personal accounts, Microsoft is a core retirement account holding; we've been accumulating a position in L3Harris ($LHX); traded in and out of Nvidia to good effect so far; and banked solid gains on $TSM.  Whether our mildly overactive approach can outpeform the pretty good buy & hold performance above, time will tell!  We're happy with this basket as is for now.
High Beta Stocks Basket - 17 March 2023 Inception
In order to add a little go-go juice to our Inner Circle service ideas, we formed the High Beta Stocks Basket on 17 March, when it was looking still more likely that the Nasdaq and its high-beta brethren could outperform.  We chose five software stocks, being The Trade Desk ($TTD), MongoDB ($MDB), ZScaler ($ZS), Crowdstrike ($CRWD) and Cloudflare ($NET).  If tech isn't your thing, these names can look alarming, but tech is our thing, and we can say they are all very well managed companies with solid and improving fundamentals.
Here's how that basket has performed since inception.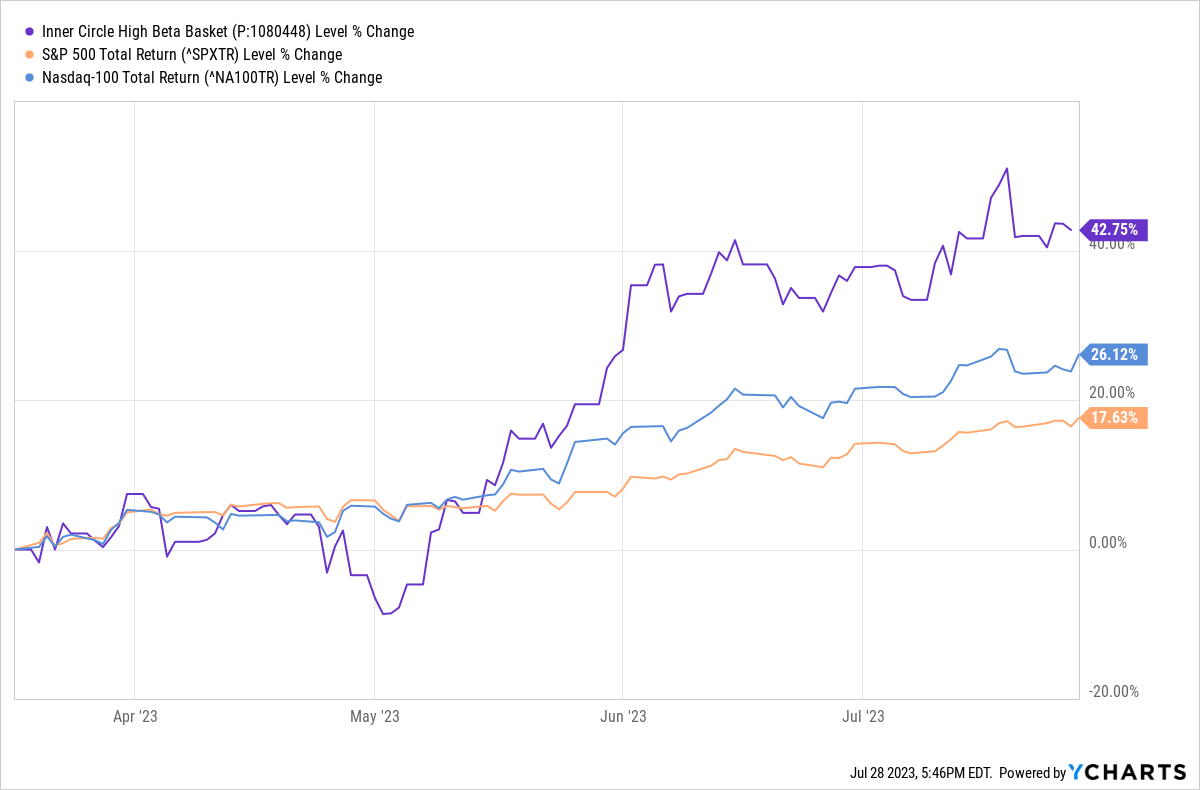 Also not too shabby, although to our amusement if no-one else's, the High Beta basket has in a most risk-on market environment underperformed the Core Stocks - you can thank Nvidia for that.
With these ten banzai names under our belt, and performing well, we went looking for names that the prudent investor would want to own in a market where growth names had mooned already, but most others had not.  Our criteria for the next basket - again intended as a long term hold portfolio - was that the chart patterns had to show the same telltale signs of institutional accumulation as we saw in tech in Q3/Q4 2022, with a view that maybe the subsequent move up, allowing the large account players who had been doing the accumulating to then show a paper gain, would be not too far away and nor would it be too shallow in nature to prove interesting.
We combed through the S&P500 and the Dow and our choice of third basket was that it should include financial names, recently beaten down by the US regional banking crisis, but where their charts were set up for success.  We chose Bank of America $BAC, Bank of New York Mellon $BK, BlackRock $BLK, Citigroup $C and CME Group $CME.  In staff personal accounts we have been accumulating these names slowly over time and we're yet to sell out of any such positions.  Here's how that basket has performed since inception.
Inner Circle Financial Stocks Basket - 23 June 2023 Inception.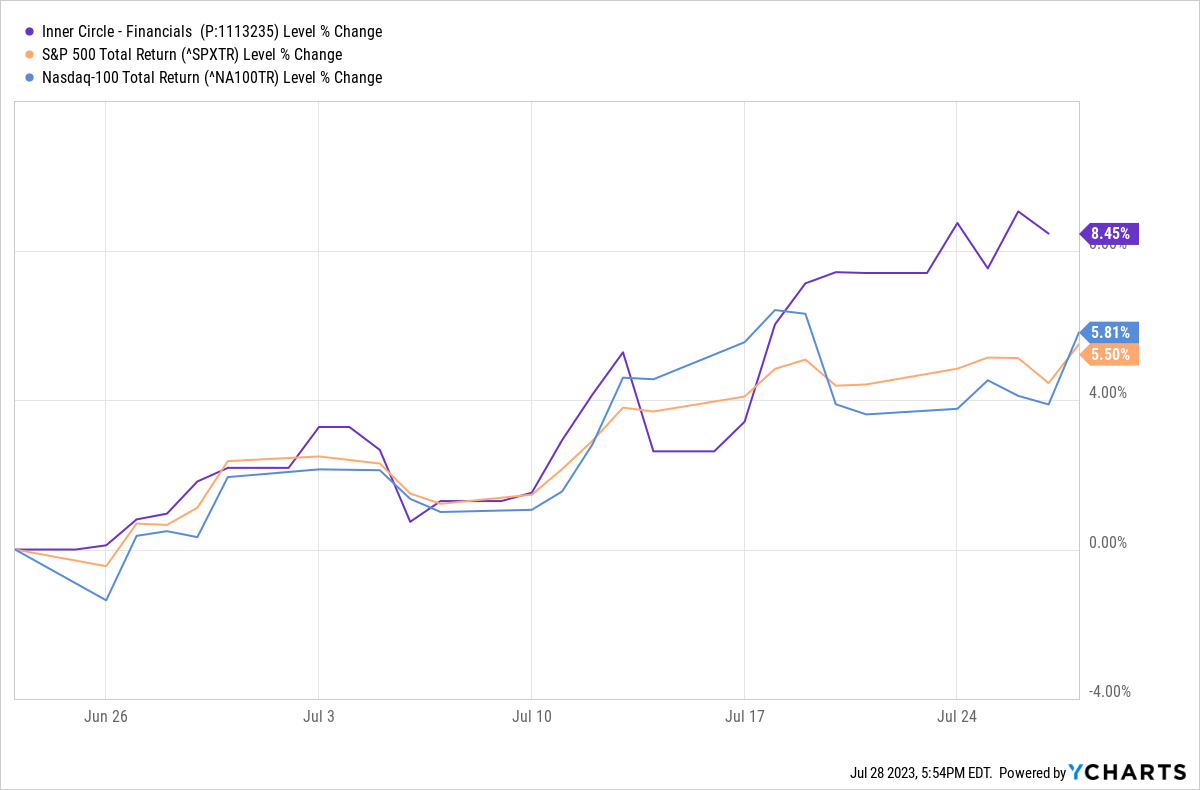 Not so exciting but then they were never going to be so.  For now, outperforming the S&P500 and the Nasdaq-100, with a lower risk profile too, so, we're happy with this one.
Finally we started combing through the Dow Jones index to find value stocks that nobody was much interested in.  Nobody on Twitter, that is.  Whereas we again were looking for breadcrumbs showing that Big Money was accumulating these stocks with an expectation of success.  We added Disney $DIS, Home Depot $HD, Intel $INTC, Nike $NKE and Dow Chemical $DOW to this basket.  We have again been accumulating these names in staff personal accounts and we're yet to make any sales from these names.  Here's how this basket has performed.
Inner Circle "Dowtards" Stocks Basket - 11 July 2023 Inception.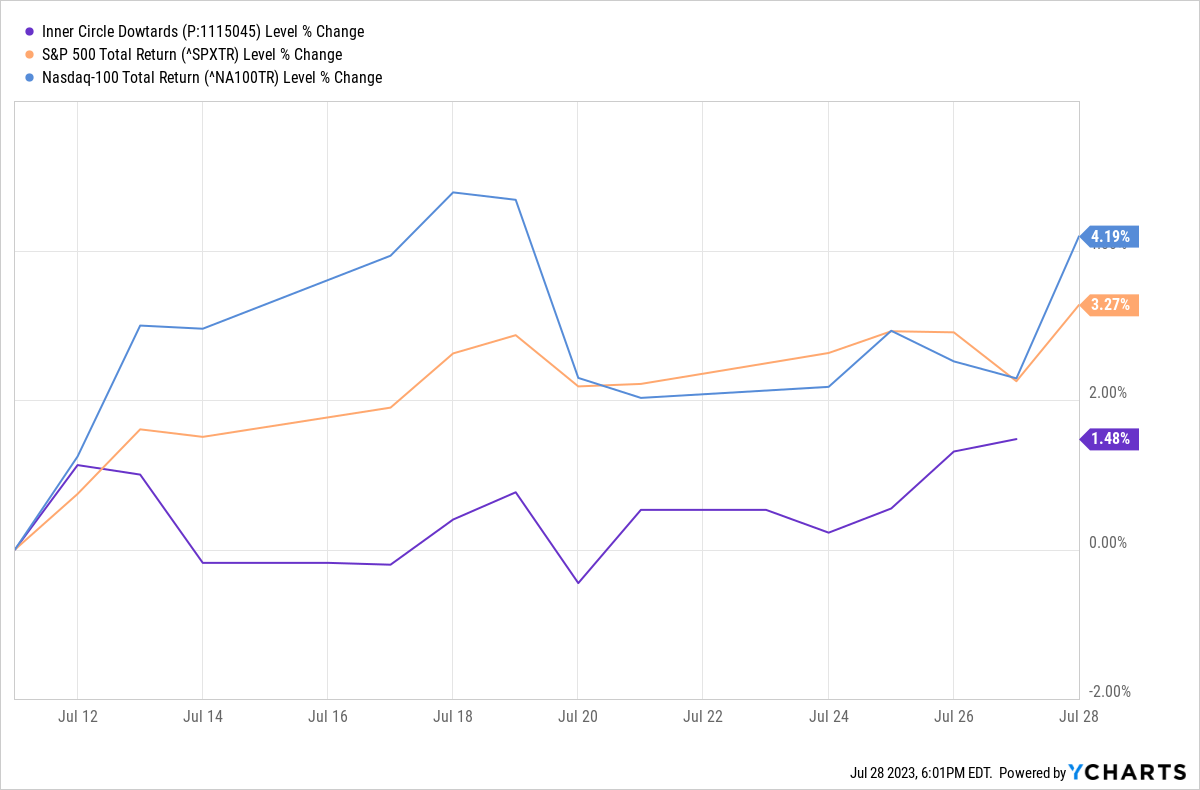 Let's call this one "in the early stages of success"!  The progress chalked up by Intel $INTC in its earnings yesterday should help.
The "Next Please" Stock Clinic
We're working on new baskets as we write, which will be for our paying members only, as always.  And as our paying members know, whenever we place trades in stocks we cover in this service, you'll see a Trade Disclosure Alert in our members-only Slack environment.  The new baskets we're working on will be no different.  These baskets are designed as buy-and-hold, but for those that like to follow what we are doing in staff personal accounts, you'll always know what we're doing before we do it.  We believe you can use our approach for fit-and-forget buy and hold till you retire investing, or short term play-the-trend trading. Your money, or your clients' money -  your choice of how to run it.
Final Word
If you've yet to do so?  Join our Inner Circle, now.  Choose monthly, discounted annual, or deeply-discounted extended subscription options.  Click the button below to learn more.
Cestrian Capital Research, Inc - 28 July 2023.
DISCLOSURE - Cestrian Capital Research, Inc staff personal accounts may hold long and/or short positions in any stocks or ETFs mentioned in this article.  Paying Inner Circle subscribers have 24/7 access to our current staff personal account positions (long/short/none) in covered stocks and ETFs.