Inner Circle Report Card, August Opex Edition
Despite an attempted robbery by Messrs. Burry and Einhorn, the Inner Circle Stock Baskets remain in good shape.  Read on!
DISCLAIMER: This note is intended for US recipients only and, in particular, is not directed at, nor intended to be relied upon by any UK recipients. Any information or analysis in this note is not an offer to sell or the solicitation of an offer to buy any securities. Nothing in this note is intended to be investment advice and nor should it be relied upon to make investment decisions. Cestrian Capital Research, Inc., its employees, agents or affiliates, including the author of this note, or related persons, may have a position in any stocks, security, or financial instrument referenced in this note. Any opinions, analyses, or probabilities expressed in this note are those of the author as of the note's date of publication and are subject to change without notice. Companies referenced in this note or their employees or affiliates may be customers of Cestrian Capital Research, Inc. Cestrian Capital Research, Inc. values both its independence and transparency and does not believe that this presents a material potential conflict of interest or impacts the content of its research or publications.
The Laziest Stock Service In Town (*)
(*) also the most hyperactive
When we started this service, Cestrian Inner Circle, back in January this year, we decided that a core principle of the service would be that it would be slow, thoughtful, analytical, professional.  And we've delivered on that by picking some long-term investment stocks, assembled them in four baskets so far, and set them adrift to see which way the market takes them.   This grand feat of laziness is the artist formerly known as the moral-high-ground-occupying Buy And Hold.
Reader, it is a wonderful thing.  You just do nothing.  We only wish we had incorporated stock baskets in our research services earlier.  We can make coffee and munch snacks all-day-long whilst those baskets tick away.  The occasional peek into performance and a report card back, what's not to like?  
This, of course, is why asset managers love you to buy and hold.  Because whilst standing around the office coffee machine wondering about whether to try the good Nicaraguan dark roast, your assets that they are, let's call it, "managing", are continuing to pay them coin all day every day.  Genius!
Cestrian Inner Circle has also developed in the direction of the more active, some would say hyperactive, investor.  Our proprietary, real-money equity index ETF trading ideas are proving increasingly popular with our members.  Every day we publish our long- and short-term charts of the S&P500, the Nasdaq, the Dow and the Russell 2000, and we include the trading plan we have for staff personal accounts.  We show the levels at which we plan to buy or sell long or short positions in each index, using 3x ETFs like TQQQ, SQQQ, UPRO, SPXU, UDOW, SDOW, TNA, TZA etc.  And then before we place any such trade in staff personal accounts, we send out a real-time alert in our members-only Slack channel, so that our members can trade before we do if they so desire.
What's next?  Well, we'll be opening a basket of new stock picks before too long, and we have new authors coming on stream to bring additional perspectives to our work in the service.  We'll also be commencing weekly live webinars, starting this coming Tuesday, 22 August.
Naturally, since we have asset-manager DNA here at Cestrian, these features are available only to paying members.  If you're not yet a fully paid up member of the Inner Circle, you can learn more about the service by just clicking the button below.
Below we share the performance to date of the four stock baskets we've opened since the service began.  So far, all are outperforming the S&P500 and the Nasdaq-100 since inception; even our "Laggards Of The Dow" basket, the Dowtards, although we note wryly that whilst the Dowtards are beating the S&P and the Nasdaq, they aren't yet beating the, er, Dow.  There's time yet.
We thought it would be a good time to check in on these baskets today after a sustained dump in stocks in the last 2-3 weeks.  Nothing like a little market fear to stress-test your stock picks.  Here's how they're doing.
Core Stocks Basket - 7 Feb 2023 Inception
We chose Microsoft, Nvidia, Taiwan Semiconductor, Dynatrace, and L3Harris.  Our logic was that early in 2023 there was a good chance that growth could outperform the market (hence Nvidia, Dynatrace and Taiwan Semi), that Microsoft would continue to drag the S&P up, and that L3Harris offered a growth stock dressed up as a value name.  To date, that portfolio has performed well.  As of today's close it's up just shy +40% on a total return basis, vs. +16% for the Nasdaq-100 and +6% for the S&P500, both indices on a total return basis (ie. including dividends).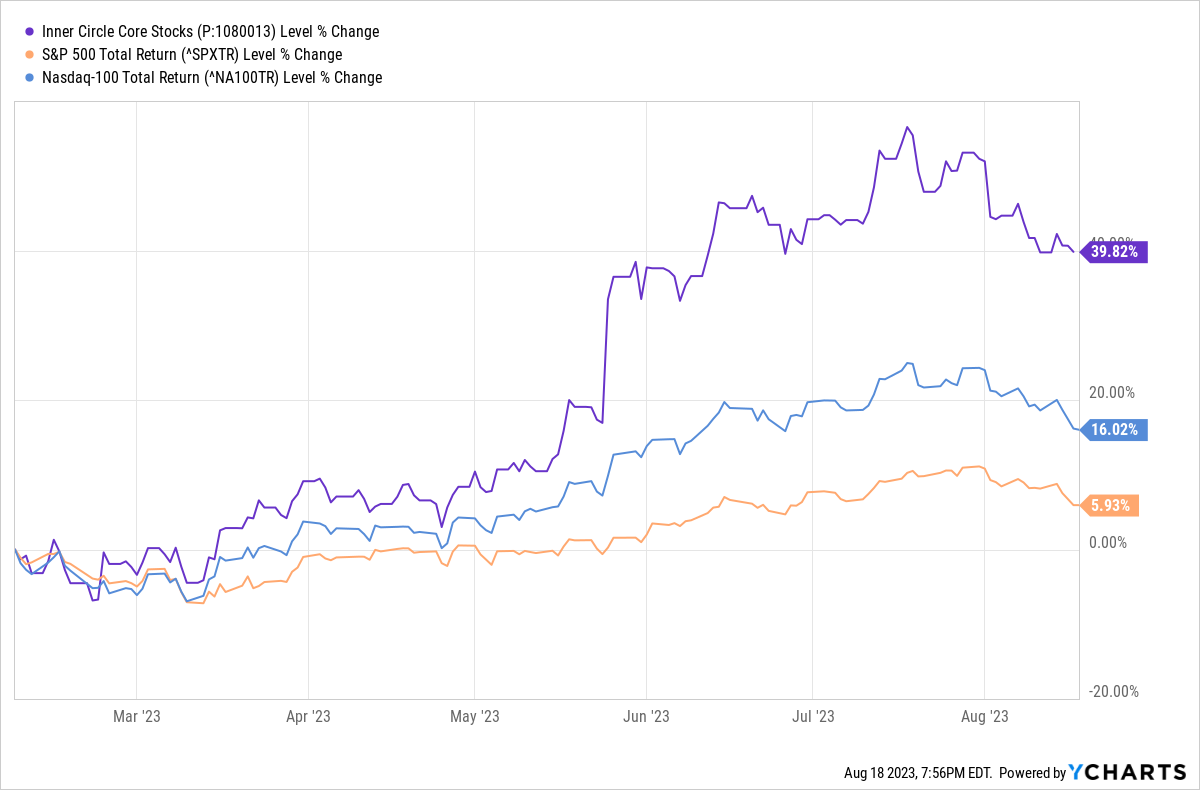 This set of names is looking good for the medium term, we would say.  In staff personal accounts, Microsoft is a core retirement account holding; we've been accumulating a position in L3Harris ($LHX); traded in and out of Nvidia to good effect so far; and banked solid gains on $TSM.  Whether our mildly overactive approach can outpeform the pretty good buy & hold performance above, time will tell!  We're happy with this basket as is for now.
High Beta Stocks Basket - 17 March 2023 Inception
In order to add a little go-go juice to our Inner Circle service ideas, we formed the High Beta Stocks Basket on 17 March, when it was looking still more likely that the Nasdaq and its high-beta brethren could outperform.  We chose five software stocks, being The Trade Desk ($TTD), MongoDB ($MDB), ZScaler ($ZS), Crowdstrike ($CRWD) and Cloudflare ($NET).  If tech isn't your thing, these names can look alarming, but tech is our thing, and we can say they are all very well managed companies with solid and improving fundamentals.
Here's how that basket has performed since inception.  You can see the beta at work!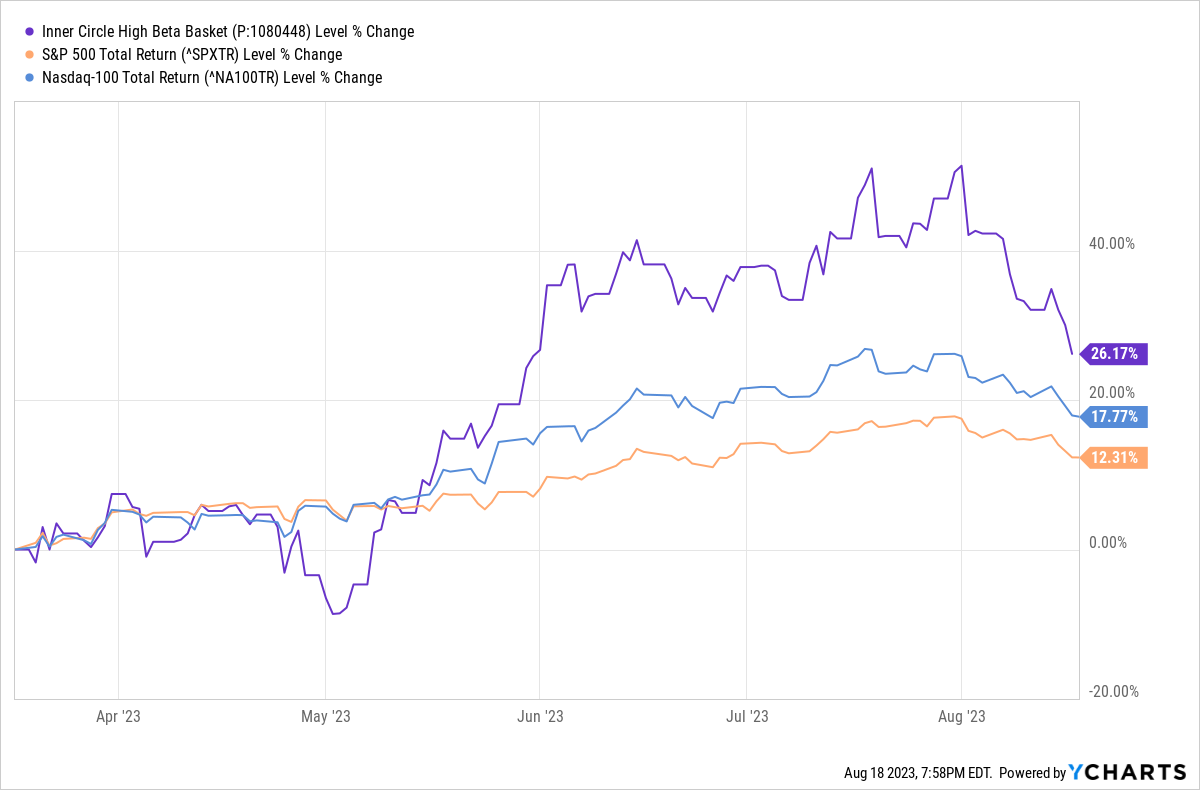 +26% vs +18% for the Nasdaq vs +12% for the S&P.  As you can see this basket has been hit by the current weakness, but it's still way ahead of the indices.
For our third basket we combed through the S&P500 and the Dow and our choice of third basket was that it should include financial names, recently beaten down by the US regional banking crisis, but where their charts were set up for success.  We chose Bank of America $BAC, Bank of New York Mellon $BK, BlackRock $BLK, Citigroup $C and CME Group $CME.  In staff personal accounts we have been accumulating these names slowly over time and we're yet to sell out of any such positions.  Here's how that basket has performed since inception.
Inner Circle Financial Stocks Basket - 23 June 2023 Inception.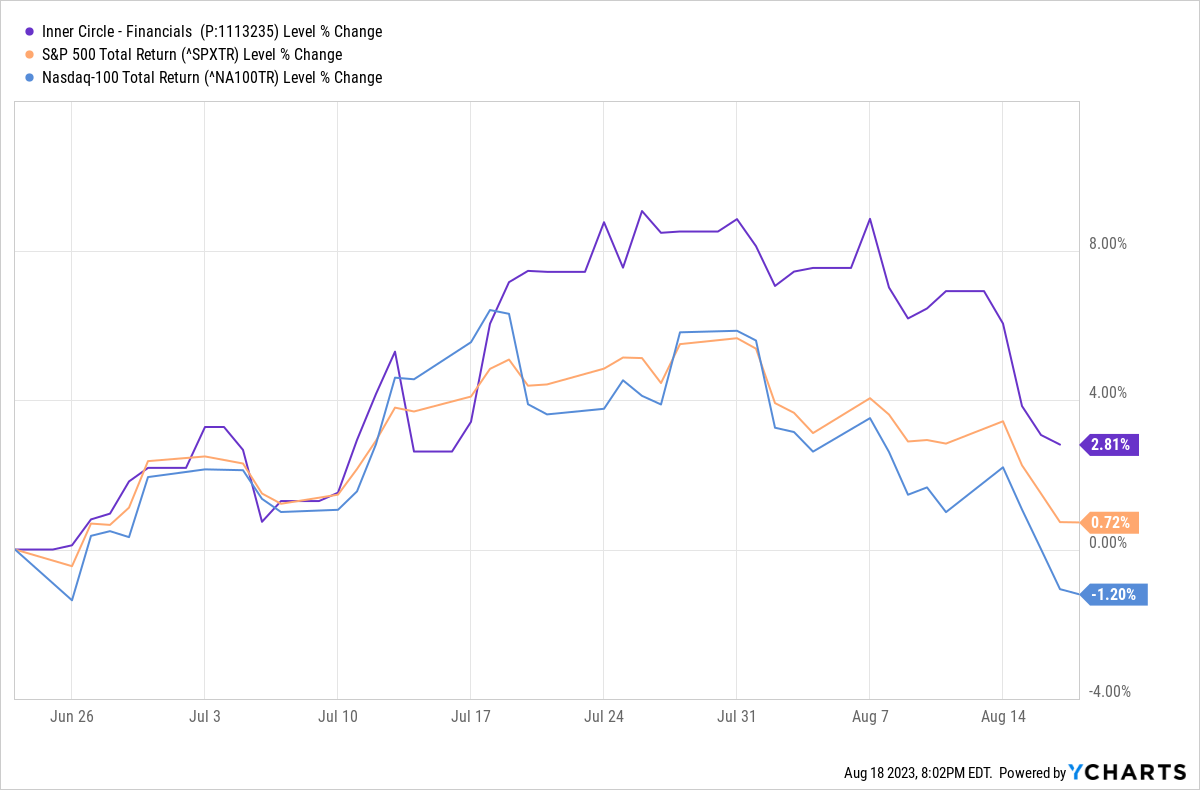 Not so exciting but then they were never going to be so.  For now, slightly outperforming the S&P500 and the Nasdaq-100, with a lower risk profile too, so, we're happy with this one.
Finally we started combing through the Dow Jones index to find value stocks that nobody was much interested in.  Nobody on Twitter, that is.  Whereas we again were looking for breadcrumbs showing that Big Money was accumulating these stocks with an expectation of success.  We added Disney $DIS, Home Depot $HD, Intel $INTC, Nike $NKE and Dow Chemical $DOW to this basket.  We have again been accumulating these names in staff personal accounts and we're yet to make any sales from these names.  Here's how this basket has performed.
Inner Circle "Dowtards" Stocks Basket - 11 July 2023 Inception.
Still lagging the Dow, even if they are beating the S&P and Nasdaq!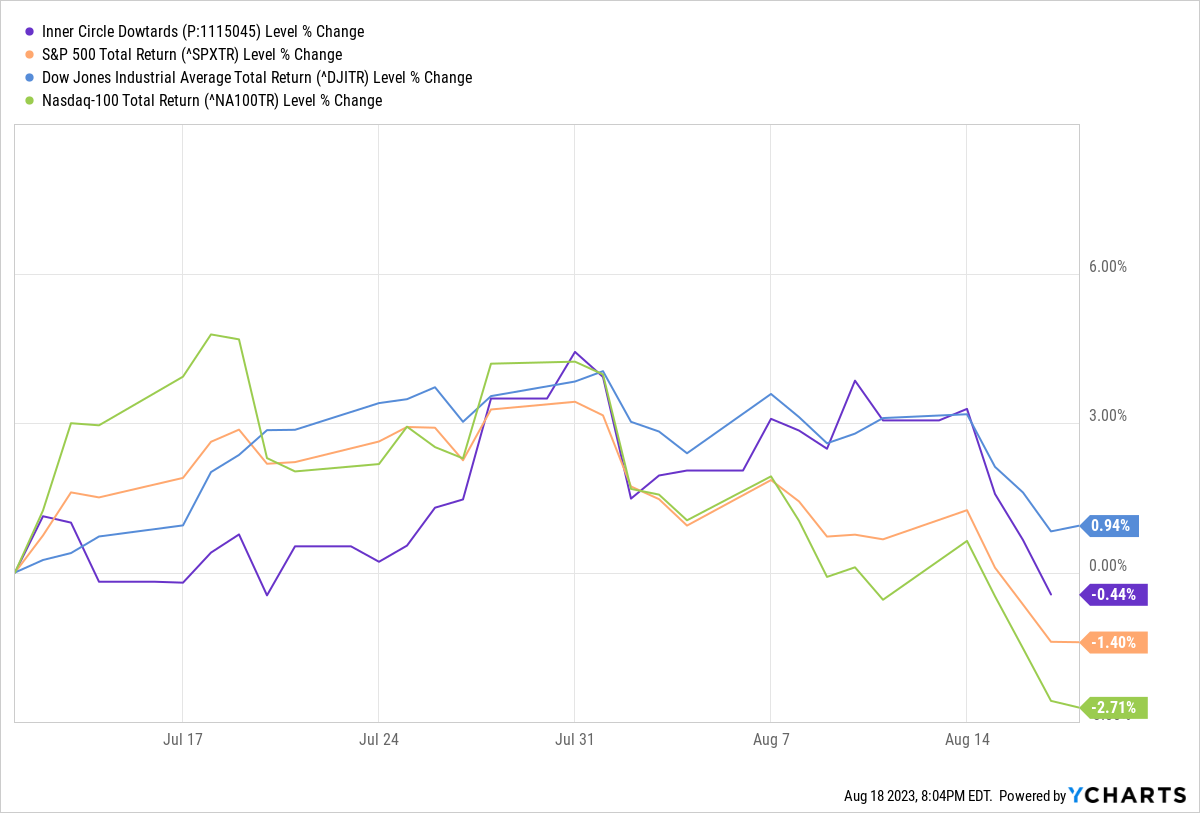 Final Word
If you've yet to do so?  Join our Inner Circle, now.  Choose monthly, discounted annual, or deeply-discounted extended subscription options.  Click the button below to learn more.
Cestrian Capital Research, Inc - 18 August 2023.
DISCLOSURE - Cestrian Capital Research, Inc staff personal accounts may hold long and/or short positions in any stocks or ETFs mentioned in this article.  Paying Inner Circle subscribers have 24/7 access to our current staff personal account positions (long/short/none) in covered stocks and ETFs.