Market On Open - Wednesday 13 September
DISCLAIMER: This note is intended for US recipients only and, in particular, is not directed at, nor intended to be relied upon by any UK recipients. Any information or analysis in this note is not an offer to sell or the solicitation of an offer to buy any securities. Nothing in this note is intended to be investment advice and nor should it be relied upon to make investment decisions. Cestrian Capital Research, Inc., its employees, agents or affiliates, including the author of this note, or related persons, may have a position in any stocks, security, or financial instrument referenced in this note. Any opinions, analyses, or probabilities expressed in this note are those of the author as of the note's date of publication and are subject to change without notice. Companies referenced in this note or their employees or affiliates may be customers of Cestrian Capital Research, Inc. Cestrian Capital Research, Inc. values both its independence and transparency and does not believe that this presents a material potential conflict of interest or impacts the content of its research or publications.
CPI Today.  Opex Friday. Let The Games Begin.
As you know if you're a subscriber here, because we keep banging on about the same point, the direction of equity indices is to be judged in multiple timeframes. Here at Cestrian Inner Circle we lay out for you - and indeed use in our own personal account matters - two timeframes.  The larger degree charts span 6-7 years and use weekly intervals.  The smaller degree charts span a few months and use daily intervals.  We choose these timeframes because they are actionable for the majority of our subscribers.  Whether you are a fund manager, an RIA, or an independent investor, you can use these charts to set your longer- and shorter-term index strategies and trade accordingly.  
Now Big Money knows that folks work to multiple timeframes, and Big Money knows too that folks are easily spooked and can be thrown off track with the occasional convincing chaff drop.  And so it is that otherwise level-headed folk do very strange things around major market events.  Actually - around minor market events that the Operators of the Matrix, the Architects - like to hype up so that the civilians believe them to be events of great import.
Right now, CPI is in a downtrend in the US.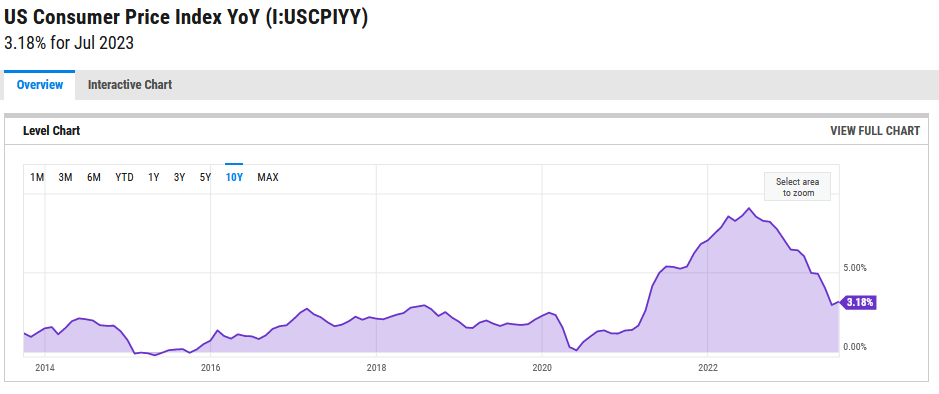 It's true that CPI could tick up this quarter, but if it does, that's a shorter-term effect in our house opinion.  

The US economy is in great shape.  Inflation is lower than most other developed economies - and it's coming down.  Unemployment is lower than most other developed economies.  But unlike those other economies - China excepted - US base rates are higher than inflation, and that means the Fed likely has to start cutting rates at some point.
So, whatever happens on the CPI print today is likely to be Big Money Malarkey, not a real thing.  That kind of vortex can be traded if you have the time - you have to do this real time and be quick about it and not committed to any one direction - or it can be zoomed out of to see where all the pieces land in a day or two.
Oh.
It's Q3 opex Friday.  Another crise du jour.  We'll talk to you about that one tomorrow.
Now, for our paying members only we walk you through our longer- and shorter-term take on the S&P500, the Nasdaq-100, the Dow Jones and the Russell 2000. Plus those soon-to-be-Matrix artefacts, Bitcoin and Ether.  (SBF is no Neo!).