Market On Open - Wednesday 9 August
... time passes ....
... time passes ....
DISCLAIMER: This note is intended for US recipients only and, in particular, is not directed at, nor intended to be relied upon by any UK recipients. Any information or analysis in this note is not an offer to sell or the solicitation of an offer to buy any securities. Nothing in this note is intended to be investment advice and nor should it be relied upon to make investment decisions. Cestrian Capital Research, Inc., its employees, agents or affiliates, including the author of this note, or related persons, may have a position in any stocks, security, or financial instrument referenced in this note. Any opinions, analyses, or probabilities expressed in this note are those of the author as of the note's date of publication and are subject to change without notice. Companies referenced in this note or their employees or affiliates may be customers of Cestrian Capital Research, Inc. Cestrian Capital Research, Inc. values both its independence and transparency and does not believe that this presents a material potential conflict of interest or impacts the content of its research or publications.
The Greatest MMORPG Of All Time
A multi-user dungeon the market most certainly is.  Dark things lurk everywhere hoping to relieve you of your lives and power-up points.  And whilst you can observe what is going on right before your eyes, your brain frequently cannot comprehend the extent of movements in the structure below nor in far-flung rooms to which you have yet to explore.
Were we in a text-based game right now  - youngsters - this is what they used to look like: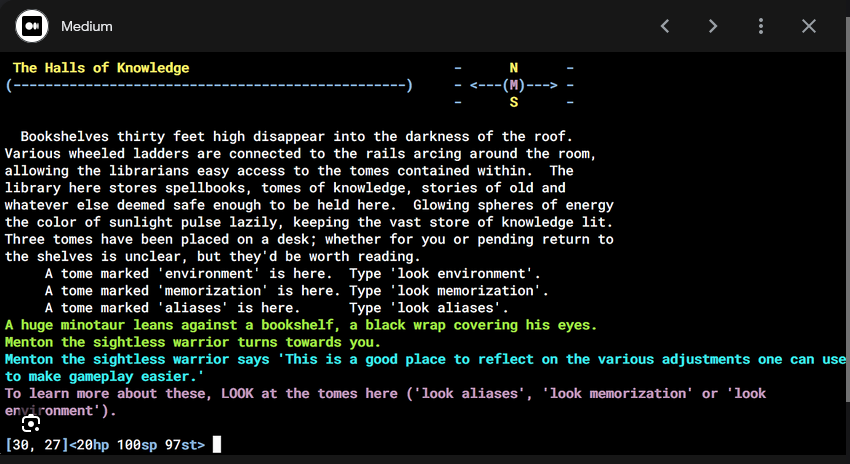 ... then the situation in which we now find ourself is most certainly the following subroutine familiar to anyone who ventured near a terminal in the 1970s & 1980s.
For this week's meme is:
... time passes
... time passes
Now, a Grue has yet to enter the room, but if it does, it will in our view be time to sell our short equity positions, for we believe we shall not be eaten by the Grue but will instead defeat it.  We would in fact welcome the Grue for a short time.  
Our house view here remains that we are in a secular bull market.  Why?  Because why not.  The economy is holding up, the trendline for inflation is down, the cost of money remains low vs. most all of history, and risk asset pricing is recovering from the drubbing it took in 2022 and the fear / greed yo-yo move of 2020-2021.  In staff personal accounts we hold short positions in the Russell 2000, the Dow Jones, and the Nasdaq (we're also holding long positions in the above) and we are looking to sell these before too long.  Paying members here will, as always, receive Trade Disclosure Alerts in our Slack channel before any such trades are placed.
Also for our paying members only let's now walk through the shorter- and longer-term outlooks for the S&P500, the Nasdaq, the Dow and the Russell.  We include Cestrian staff personal account trading plans and walk stepwise through our positions, plans and logic.  If you've yet to sign up to a paying plan here, you can do so right from the link below.