Market On Open - Friday 6 October
DISCLAIMER: This note is intended for US recipients only and, in particular, is not directed at, nor intended to be relied upon by any UK recipients. Any information or analysis in this note is not an offer to sell or the solicitation of an offer to buy any securities. Nothing in this note is intended to be investment advice and nor should it be relied upon to make investment decisions. Cestrian Capital Research, Inc., its employees, agents or affiliates, including the author of this note, or related persons, may have a position in any stocks, security, or financial instrument referenced in this note. Any opinions, analyses, or probabilities expressed in this note are those of the author as of the note's date of publication and are subject to change without notice. Companies referenced in this note or their employees or affiliates may be customers of Cestrian Capital Research, Inc. Cestrian Capital Research, Inc. values both its independence and transparency and does not believe that this presents a material potential conflict of interest or impacts the content of its research or publications.
About Our 'Market On Open' Notes
These notes, published daily, form part of the Equity Index Strategy that we employ here in the Inner Circle service and, indeed, in Cestrian Capital Research, Inc staff personal accounts.  You can read all about our Equity Index Strategy, here.  
When Are Jobs Not Jobs?
NFP today looked like a big number, and big job numbers mean big inflation which means here comes Papa Powell to bludgeon equities into oblivion.  Right?
Wrong.  Here's what Yimin and Sam had to say today in the Inner Circle members-only chat channel.  (Free readers here - you're missing out on a key resource in this service.  Join as a paying member to gain access to our super-smart community that lives in chat here).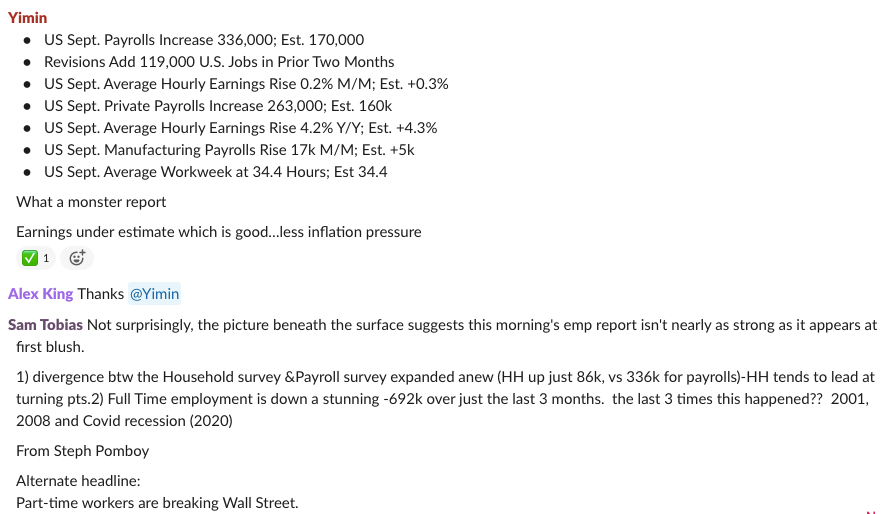 If you read these numbers - analyzed well by the dynamic duo above - in the light of Wednesday's breadcrumb trail left by Nick Timiraos at the Fed Street Journal, you might reasonably conclude that the Fed's hiking cycle is done, and that equities' next big move is likely, up.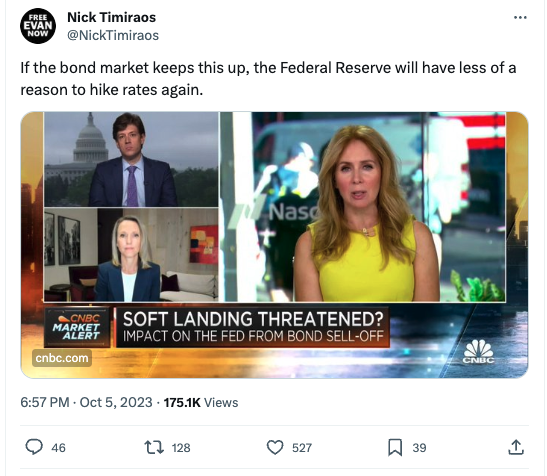 Now, let's get into the detail.
Below we step through our analysis of the S&P500, the Nasdaq, the Dow Jones, Russell 2000, Bitcoin and Ether.  
We lay out our charts so that you can use them for (i) long-term investing, giving you market context for your single-stock and ETF investments, and/or (ii) short term trading, whether in index ETFs, futures or options.  
We use these very charts in our own hedged 3x index trading in this Inner Circle service, which includes all four US equity indices.  Before we place any such trades, we post a Trade Disclosure Alert so that our paying members can, if they wish, trade ahead of us.  
If you're a free reader here - and welcome, we have many new such joiners! - and you'd like to join as a paying member, you can do so right from the button below.
Now let's get to work.