Market On Open - Monday 2 October
DISCLAIMER: This note is intended for US recipients only and, in particular, is not directed at, nor intended to be relied upon by any UK recipients. Any information or analysis in this note is not an offer to sell or the solicitation of an offer to buy any securities. Nothing in this note is intended to be investment advice and nor should it be relied upon to make investment decisions. Cestrian Capital Research, Inc., its employees, agents or affiliates, including the author of this note, or related persons, may have a position in any stocks, security, or financial instrument referenced in this note. Any opinions, analyses, or probabilities expressed in this note are those of the author as of the note's date of publication and are subject to change without notice. Companies referenced in this note or their employees or affiliates may be customers of Cestrian Capital Research, Inc. Cestrian Capital Research, Inc. values both its independence and transparency and does not believe that this presents a material potential conflict of interest or impacts the content of its research or publications.
About Our 'Market On Open' Notes
These notes, published daily, form part of the Equity Index Strategy that we employ here in the Inner Circle service and, indeed, in Cestrian Capital Research, Inc staff personal accounts.  You can read all about our Equity Index Strategy, here.  
Off To A Flying Start
Futures overnight and early this morning are up materially, and crypto is positively pumping.  Such early promise can fade through the day of course, but you have to put this up-move in the context of where the indices have been lately. Here's an example using the Nasdaq - all four equity indices have put in a comparable pattern.
Spike And Retest Low, NQ, 26 Sep 2023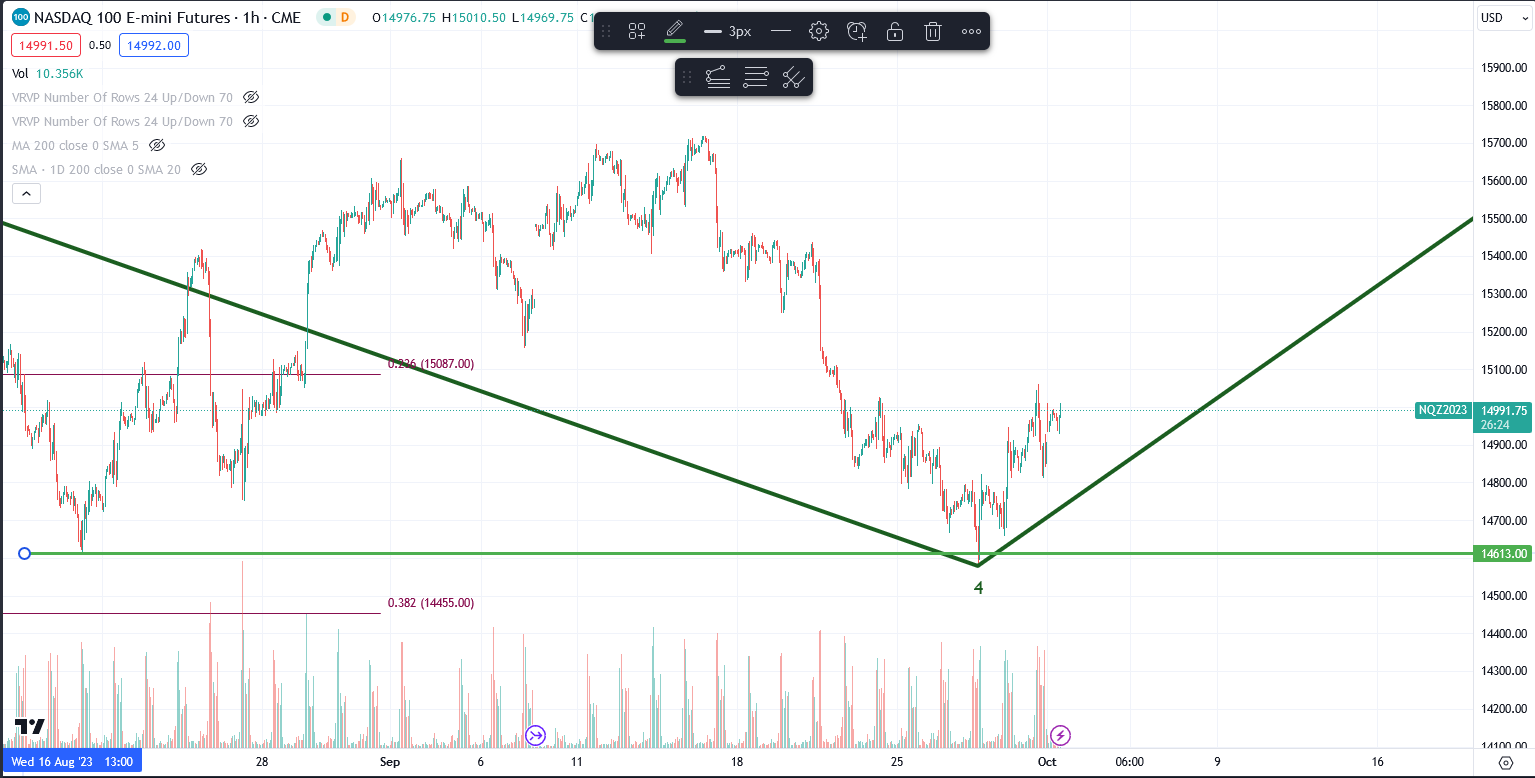 So time will tell but our best judgment is that we are early in an uptrend towards year end.  The fly in the ointment remains the high level of the 10-year yield.  We have been saying for some months in this daily note that we think that both equities and the yield can move up at the same time in the larger degree - we've said the only evidence we have for this is that they have, in fact, been doing so; that remains our view.  If the 10-year collapses due to Fed or other macro actions then yes we expect equities to move up; but the 10-year at or around 5% does not, in our view, mean that equities cannot move up.
Below we step through our analysis of the S&P500, the Nasdaq, the Dow Jones, Russell 2000, Bitcoin and Ether.  This is for our paying members only.  If you'd like to sign up for a paid membership, you can do it right from the button below.