Market On Open - Tuesday 24 October
DISCLAIMER: This note is intended for US recipients only and, in particular, is not directed at, nor intended to be relied upon by any UK recipients. Any information or analysis in this note is not an offer to sell or the solicitation of an offer to buy any securities. Nothing in this note is intended to be investment advice and nor should it be relied upon to make investment decisions. Cestrian Capital Research, Inc., its employees, agents or affiliates, including the author of this note, or related persons, may have a position in any stocks, security, or financial instrument referenced in this note. Any opinions, analyses, or probabilities expressed in this note are those of the author as of the note's date of publication and are subject to change without notice. Companies referenced in this note or their employees or affiliates may be customers of Cestrian Capital Research, Inc. Cestrian Capital Research, Inc. values both its independence and transparency and does not believe that this presents a material potential conflict of interest or impacts the content of its research or publications.
Up
Yesterday in our Market On Open note we said, time for the market to decide whether it was about to break down or find support and move up. My own feeling was that we would see some kind of federal intervention because the incessant selling of US Treasuries at a time when the US is under pressure to fund wars on two fronts in addition to its own domestic agenda - and when the House is itself in disarray - was not conducive to the US's position in the world. I was surprised however to see the form of federal intervention, which took two forms (I am speculating, of course, as to any link between the two events or between either of them and any government intent). First up, Nick Timiraos at the Wall Street Journal, a respected Fed-whisperer, posted this: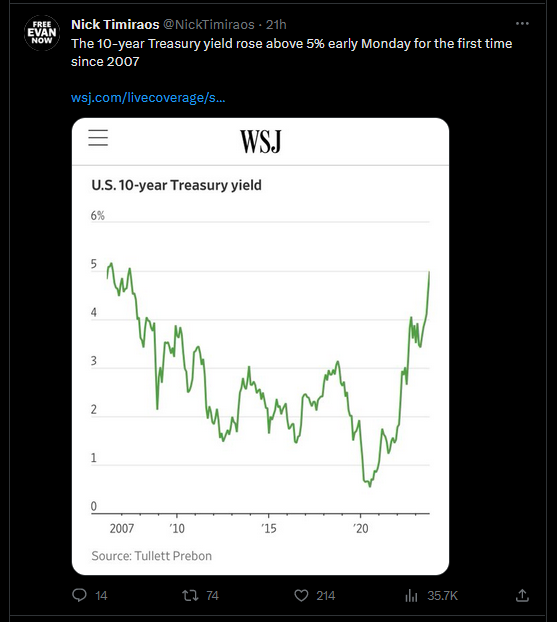 The implication being, yields spiked in 2007 then fell; yields have spiked now ... perhaps now they fall.
Not long after, Bill Ackman, hedge fund manager by day and New York Fed advisor by night Tweeted this:

And then yields started to fall, bonds started to go up, and equities followed.
A complete coincidence, of course.
So for now, markets did decide, and the decision was, Up.
Another Word On Crypto
Crypto is breaking out on the steps towards SEC-approved Bitcoin ETFs. See charts below and take a look at our note from yesterday on the topic. Personally I am now completely out of crypto; I realized small losses in $ETHE and $BITO and rolled the capital into long bonds ($TMF) and additional Russell 2000 ($TNA) positions. Short term this may prove less profitable than holding the crypto instruments but I can now sleep much better without having to worry about the legal difficulties at Grayscale or Binance. I've noted in these pages that I am in the process of moving all capital in my trading account into index ETFs rather than single-stock or other names. TMF is a slight divergence from that but the chart on bonds is so beaten-up, and the yield looks like it may continue to roll over nicely, so it may work out. But if not, I shall still be sleeping easier.
The Matter In Hand
Let's get back to today and check in on where markets stand.
Paying members, scroll right down for our latest take on markets. As always we look at the 10-year yield, the S&P500, Nasdaq-100, Dow Jones and the Russell 2000; we consider long-term and short-term outlooks, and we lay out staff personal account trading plans in each of the indices. We add Bitcoin and Ether futures pricing for good measure.
Price Rises Coming Soon For New Joiners
Want to sign up as a paying member? Our 'Extended' 6-year membership pricing rises 1 November; Annual and Monthly memberships rise 1 December, so, now's a great time to beat the raise.
If you currently pay monthly, and want to move to annual, or if you're on a monthly or annual subscription and you want to move to Extended, same logic applies.
Note - to open full-page versions of these charts, just click on the chart headings, which are hyperlinks.